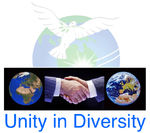 India2011_Background



 

Background

 

 

 

The India Forum follows the successful

Unity in Diversity

event held in Melbourne, Australia, in October 2010 under the auspices of the UN Alliance of Civilizations. Click

here

to read more.

 

It also follows and builds on the most recent major event, the 3rd Forum of UN Alliance of Civilizations, which was held in Rio de Janeiro, Brazil, in May 2010.  The Rio event was attended by President Lula da Silva, UN Secretary-General Ban Ki-moon, several other heads of state, civil society, religious leaders, academia, media and youth. Click

here

, to read more.

 

 

| | |
| --- | --- |
| Rio de Janeiro Brazil, May 2010 | Melbourne Australia, October 2010 |

 

 

The 'Unity in Diversity' project aims to:

Initiate, promote and foster dialogue

Open new and wider avenues for closely learning about each others identities, customs, traditions faiths and beliefs
Strengthen and establish a peaceful and safer co-existence.


 

The project is lead by Chairman KK Sarachandra Bose and Vice Chairperson Maya Shahani -- the latter is also the Founder and Chairperson of SAGE Foundation. Both Mr. Bose and Ms. Shahani are prominent figures in Indian society.

 

Mr Jotwani - Commissioner for Linguistic Minorities Commission, Huzaifa Khorakiwala - CEO Wockhardt Foundation have already confirmed their participation as well as other prominent Indian leaders.

 

India was featured prominently at the 'Unity in Diversity' Forum in Melbourne. One of the Forum's co-organising partners was the Federation of Indian Association Victoria, (the main state body for Indian organisations).

 

Among key speakers were:

Indian Country Manager from the University of Melbourne also representing SAGE Foundation

Indian community leader & Vice Chair of Ethnic Communities Council New South Wales
A representative from India in the International Student discussion roundtable


Among organisations presenting were:

Leading NGO -- The Art of Living

NGO visiting from Chennai, India -- Service and Research Institute on Family and Children (SERFAC)
From the corporate sector -- Gujarat NRE Coaking Coal Limited


The event was supported strongly from India firstly by Maya Shahani and Asha Tapase, the Office of H.H. Sri Sri Ravi Shankar and many others.

 






Why Thiruvananthapuram?

Kerala is the most religiously diverse state in India with 56 per cent Hindus, 24 per cent Muslims and 19 per cent Christians
Highly literate Kerala is less industrialised

Religious diversity has been a defining trait of India's population for years
India has the world's single largest Hindu population together with the 2nd largest Muslim population
India is a member of the UN Alliance of Civilizations Group of Friends

 

It is anticipated that the India Forum will allow participants to develop new thinking, brainstorm and create innovative, collaborative ventures and establish a community of supporters for the United Nations Alliance of Civilizations in the Region and humankind in general.

 

 

 

About Kerala

Kerala, known as God's Own Country, is listed by National Geographic as 'The World's 23rd Best Tourist Destination'. Thiruvananthapuram is the capital and is largest city of the 100% literate Kerala. It is one of the major tourist destinations in the State. The backwaters of Kerala are a unique attraction to tourists. Kovalam Beach in Thiruvananthapuram is known as the 'Paradise of the South". It is one of the best beaches in India.