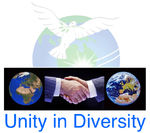 India2011_About

About the Forum

 

 

Participants

Government representatives
Civil society leaders
Religious groups

Private sector representatives

Academics

Local authorities
Youth

Representatives will come from India and neigbouring countries.
The role of religions and beliefs in promoting peace and development: How to combine religion and secularism in Indian society in the 21st Century?  How is Indian secularism different or similar to other models (i.e., USA, France, Turkey)?
Shaping perceptions, challenging stereotypes: What is the role of the media today?
Education for intercultural citizenship: What will be the cultural and societal impact of the Demographic divide? How to capitalize on the Youth wave?

Maintaining and developing cultural identity and heritage in mainstream society: What are the defining factors of being Indian today? Is it India as a nation or Hinduism as a religion/civilization? How is the concept of the Indian family changing?
India's intercultural relations with its immediate neighborhood in South Asia and its wider regional environment: How to build trust and cooperation?  What is the societal support to the civil society, artistic groups at the grassroots level that are working on building trust and cooperation between the south Asian countries?
How can bridging cultures to build peace encourage and support development?
Aims:
To create a platform for the exchange of practical experiences, solutions and policy aimed at developing cultural understanding and cooperation among communities in India and throughout the region, and in so doing contribute to the mission of the UN Alliance of Civilizations;
To learn from the experience of community leaders who are working successfully at the grassroots level to bring people of diverse cultures together, fostering dialogue, understanding and cooperation;
To adopt a Plan of Action for the next year and to come up with a list of pledges that individuals can implement in their daily lives to contribute to mutual understanding and cooperation.

Features:

The Marketplace of Ideas will showcase some of the most innovative 'grassroots' experiences and solutions from the South Asia region, providing organizations with exposure to media, policy makers and foundations. Applications are open until 10 January 2011. For more information, visit Marketplace of Ideas.
An interface session in partnership with World Interfaith Harmony Week, which was recently established through the adoption of a UN General Assembly Resolution upon an initial proposal by H.M. King Abdullah II of Jordan. The Resolution reaffirms that mutual understanding and interreligious dialogue constitutes important dimensions of sustainable peace within and among societies and it proclaims the first week of February of every year the World Interfaith Harmony Week between all religions, faiths and beliefs.