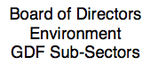 Board of Directors-Environment
In this world of change, we are witnessing changes in the environment at every level. This changed environment is affecting humans both directly and indirectly.
Urgent action is therefore required in order to stop, avoid and/or postpone further serious damage to planet earth, the ozone layer, humans and various life forms, including plant and animal.
GDF is promoting, fostering, initiating, helping, (and everything in the sense of understanding) projects, initiatives and ideas, who's aims and objectives are for the protection of humankind development and planet earth- encompassing all life.
---
Doug Woodring - Director, Environment - Marine

Doug was born in California, but has worked in Asia for over 17 years. He is an environmental and technology entrepreneur, as well as a water sports enthusiast. Prior to working with start ups, he created a framework for a global environmental technology fund at Merrill Lynch in1998.

He is currently working with a variety of renewable energy technologies,including micro wind, wave, and for buildings, living vertical green walls. He is the chairman of the Environmental Committee at the American Chamber in Hong Kong, organizer of two open water swim races, and well connected throughout the region in the areas of the environment and new media technologies. He has a BA from UC Berkeley,an MA in Environmental Economics from Johns Hopkins (SAIS), and an MBA from Wharton.
---
Scott Leckie, Director-Climate Change


Director and Founder of Displacement Solutions (www.displacementsolutions.org), an organisation dedicated to resolving cases of forced displacement throughout the world, in particular displacement caused by climate change and conflict. In 2009 Scott founded Oneness World (www.onenessworld.org), an institution dedicated to developing alternative forms of global governance grounded in global citizenship. He is also Founder of the Centre on Housing Rights and Evictions (COHRE - www.cohre.org), an organisation he headed from 1991-2007. He regularly advises several United Nations agencies and has worked on human rights issues in 65 countries. He was the driving force behind more than 50 international human rights standards, and has published 12 books and over 100 articles and reports on issues including housing rights, economic, social and cultural rights, forced evictions, the right to housing and property restitution for refugees and internally displaced persons and other human rights themes. He frequently lectures and regularly teaches several human rights courses.


---
Emeretta Cross - Director, Project Pacific - Small Islands Issues


CEO & Founder - Merethan Vision
Projects Coordinator - People Ernst & Young
Director - Entertainment / Kaiga Tuvalu Melbourne

Emeretta was born on Banaba, formally known under the British High Commission as Ocean Island, during the Phosphate mining era. In 1974, just before mining ceased on Banaba, she moved with her family of seven, Emeretta the eldest, to Auckland New Zealand.

Whilst living in New Zealand, Emeretta finished High School and began a career of juggling full time paid roles in administration whilst volunteering for services that engaged in community liaisons. Her first role at Ullrich Aluminium gave her insight in the manufacturing and metal industry. Assisting the CEO - who was also the New Zealand Consular General for both Kiribati and Tuvalu. During this time, Emeretta was able to perform diplomatic disciplines of order and communication. From coordinating events and special functions, addressing logistical requirements at venues and catering, prior to dignitary arrival; to entertaining and participating in cultural floorshows. Demonstrating her passion for her ethnic background from both Kiribati and Tuvalu. Those relationships are still strong to date.

1986 Emeretta moved to join her family on Tarawa Island in Kiribati and worked for two years as Dorm matron and Secretary at the Moroni High School. During this tenure was awarded a scholarship to study at Brigham Young University - Hawaii Campus. There she studied towards degrees in both Communication and Theatre. Her theatrical experience rewarded her with the opportunity to further work with community affairs in Laie and Manoa - where she became involved with local focus groups. Playing lead roles showcasing the historical and monumental milestones in Hawaiian history. These opportunities filled Emeretta with the passion to use entertainment as the medium to touch lives and make a change. To influence Youth to choose roles, whether on stage or in real life, that will be meaningful and poignant.

1992 - Emeretta moved to Melbourne to be with her Australian family whom she really needed to get to know. This side of the family personified the colonialist aspect of her heritage. Here she was married and had a son. Here Merethan Vision was born. A combination of both her name and her son's, the company was established to mould a way for her son to learn about his culture and a purpose in life. Through Merethan Vision productions and events, Emeretta hopes to share with other parents and children, that which is important. To have an identity and find a purpose.

Currently employed in the HR division of Ernst & Young - Emeretta thrives in building relationships with Partners and the communities abroad. In the corporate sector - demonstrating integrity, respect and teaming is paramount to their success. These values, coupled with energy, enthusiasm and the courage to lead, guide Emeretta in making steps that build multicultural bridges for Oceanic Indigenous Regions.

Tuvalu and Kiribati are threatened by environmental changes. These realities have provided an opportunity for Emeretta to become an identity in the Climate Change sector by speaking on known conditions facing her people, including displacement and loss of land. Her goal now is to liaise with leaders and activist for sustainable options for all the low lying regions. She is an advocate and presents for Oxfam, CANA, Youth Coalition Australia, Friends of Earth, Melbourne University, Federation Square - Gift of Light annual project and Footscray Community Art Centre.

Her links with leaders and Elders in all regions of the Pacific have been established over twenty five years, through constant demonstration of her pride in heritage. Through open and honest discourse.

Manuia te aso - Kamna bane ni tekeraoi n tai aka ana roko... now known as Aunty "M"


Fleur Butcher - Director, GDF Sanctuary

Fleur grew up in the hills of Perth surrounded by wildlife. From a very early age, she assisted in the care of many species of wildlife as a carer. Her passion for animals and the environment grew from this beautiful bush setting.
Fleur's family were active members of the Darling Range Naturalist club. They spent all their holidays camping in the bush and learning about Australian wildlife.
Fleur has volunteered her spare time to assist wildlife both land and sea. She spent time with the Bunbury dolphin trust, and Underwater World. She has assisted with research on Bottle-nosed dolphins, Humpback whales, and Mahakam River dolphins. She was an active member of west whales attending many whale strandings.
She started her dream job at the Perth zoo 20 years ago. It did not take long to discover her passion for primates, enrichment, training and especially orangutans. In 1996, she followed her passion to Kalimantan where she worked at the Wanariset Reintroduction Centre for 18 months. Fleur was nominated for young Australian of the year for her work with orangutans. Since then, she has been an active supporter and committee member of the Borneo Orangutan Survival Foundation returning frequently to Indonesia with donations and medical supplies. Fleur was a founding member of BOS Australia. In 2007, Fleur put together the successful welding for welfare program which is still ongoing.
She was employed by Zoos Victoria in 2000. Fleur has actively contributed to the formalisation of enrichment and training on the rainforest precinct. She has played an integral part in the development of the new Orangutan Sanctuary at Melbourne Zoo. She now works on the trail precinct.

Fleur specialises in the care and management of Siamangs and Orangutans.
Matt Wills, Manager - Cu Chi Wildlife Rescue Centre, Vietnam

Matt has worked with wildlife insitu and exsitu for the past 11 years. He has worked with all taxa in various institutions around the world, including Whipsnade Wild Animal Park and London Zoo, UK; Sea World, USA; Melbourne Zoo, Australia, and in various institutions through Europe.

Matt holds a degree in Environmental Management and has been actively involved in Conservation in Cambodia and Vietnam for the past 5 years.

In 2006 he produced and coordinated the 1st Wild Animal Husbandry Workshop in Cambodia held at Phnom Tamao Wildlife Rescue Centre.

Matt has been working with Wildlife at Risk (WAR) in Vietnam for the past 14 months. WAR run the only multi-species wildlife rescue centre in Southern Vietnam and are actively involved in combating the fight against illegal wildlife trade, increasing awareness and conducting scientific surveys in Vietnam.
---
THE LARGEST CLEANUP IN HISTORY

Science -vs- PR hype doesn't hold up: Satellite images reveal ocean acidification from space
New satellite reveals places on Earth most at risk from ocean acidification

Climate change and the oceans