Me and the Others
Children's Drawing Competition 
The "Unity and Diversity-10.10.10" Forum brought together partners from across the world to discuss the theme, 'Bridging Cultures, Building Peace'.

From the outset the directors of the forum felt that it was important to incorporate a voice from the future generations.  Through the medium of art, children from primary schools from around Melbourne were asked to submit their visions of a future of cultural inclusion and diversity, as a response to the title; 'Me and the others'.  For children between the ages of seven and twelve, grappling with themes that continue to challenge leading politicians and thinkers, this was not an easy task. 

However, as the entries begun to arrive, the organisers were struck by the maturity with which the children had approached the challenge at hand.  In addition, the pieces were highly original, with a wide range of individual interpretations of the theme. 

 

101010_Me & the Others, Children's Drawing Contest from globaldialogue on Vimeo.
Judging the competition, as such, proved to be extremely challenging.  The winners were selected according to three main criteria: response to the theme, originality and artistic ability, and invited to the conference to present their entries.
The young winners spoke fantastically, explaining the motivation behind their designs in front of a large audience as well as a live internet video stream.  Ana Zidov, from Ripponlea Primary School, explained; 'The colourful side of the drawing represents the world with happiness and peace.  The other side is black, to show times of conflict, but I included the blue to show that there is still hope.'  (pictured, below).
One entry which stood out in particular was the joint submission from Brighton Grammar School (pictured, below). 
Students designed individual self portraits, which unfolded to reveal the ways in which they themselves were a product of a multicultural society.
Jean Christophe-Bas, Senior Advisor, Strategic Development and Partnerships at the United Nations Alliance of Civilizations was delighted with the children's contributions to the conference.  'They've done an incredible job,' he asserted.  'I would love to see this idea taken to an international level, incorporating artwork from children from all over the world.'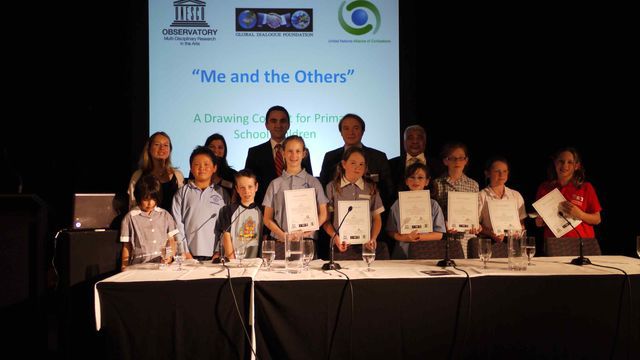 Pictured (L-R): UNESCO volunteers, organisers Peter (Pece) Gorgievski - GDF, KK Bose - GDF and Jean-Christophe Bas, UN Alliance of Civilizations with competition winners. 

Contact:
Helen McNab, UNESCO Observatory,
Faculty of Architecture, Building and Planning


The University of Melbourne, Parkville VIC 3010


or telephone:  +61 (3) 8344 9026